Ranking the top 101 Nintendo games: No. 84, The Legend of Zelda: A Link Between Worlds
The sequel to Link to the Past takes what Zelda learned in the intervening years, and combined that with new ideas that would find their way into the franchise's next masterpiece.
I'm ranking the top-101 Nintendo developed/published games of all-time, and you can read about the thought process behind game eligibility and list construction here. You can keep up with the rankings so far through this link.
Nintendo has made sequels to Legend of Zelda games before, but they've never been quite as direct as A Link Between Worlds. This 2013 release for the Nintendo 3DS is the most explicit sequel Nintendo has ever done for a Legend of Zelda title: while games like Majora's Mask or Link's Awakening featured the same Link as those of the previous game, they were going off on some unrelated adventure in a brand new land. A Link Between Worlds, though, is explicitly a return to the Hyrule of A Link to the Past, many years in the future, with a different Link instead of a different location.
The map is, mostly, as you remember it. Its secrets are different, as the Link of the past already discovered them there, but this is more than just the casual similarity in Hyrule maps that you get from Zelda to Zelda based there. This is the Link to the Past map you remember, only updated for the passage of time that's occurred between the sequel and its predecessor.
When Nintendo first announced a sequel to Link to the Past, I was excited to see what they'd do, but also a little nervous that it would lean too heavy on the nostalgia side of things. As someone who very much believes nostalgia gets in the way of our ability to properly evaluate something like video games — there's a reason the games on list aren't being ranked through that lens — that was a real concern. It turned out to be an unnecessary one, though, as Nintendo paid homage to Link to the Past without relying on "hey, remember Link to the Past?" in order to make the game enjoyable on its own merits.
A Link Between Worlds might have a near-identical map to its predecessor, but that's where the core similarities end, outside of things like updated (and killer) versions of classic LttP songs like this one. The dungeons might be in similar locations, but what goes on inside the dungeons is completely different, both in terms of the kinds of puzzles to solve and in how you solve them. The key reason for this is the introduction of a new mechanic, where Link flattens himself into a two-dimensional walking painting and then travels along walls.
I should probably show that to you in action:
This is possible here because, unlike Link to the Past, Link Between Worlds is, in reality, a 3D game. It might look like it has something of a fixed overhead view, a 2.5D hybrid like the DS Zeldas before this one, but it's actually full 3D. So, changing Link into a 2D sprite is possible here, since then he's then a 2D sprite moving throughout what is now very obviously a 3D world. A 2D sprite moving through a 2D world is just how they normally move and interact with their environment, so the change is obvious, and creates a literal new gameplay dimension. This mechanic ensures that players will be solving puzzles they've never seen before in Zelda games, and that was vital to making a sequel taking place in the same version of Hyrule as a beloved classic feel like its own game.
It also made it so that the dungeons of Link Between Worlds are superior to their Link to the Past cousins, where, a little too often, keys were a thing you got when you finished whatever task was put in front of you in a given room, to open the door of that room. These dungeons feel bigger, with rooms a smaller puzzle piece of a larger whole, and that's more in line with the post-LttP (and my preferred) Zelda design. Link to the Past's dungeons are good, don't get me wrong: these are just better.
That feeling of superiority carries over into the overworld — well, overworlds, plural — by making something old feel new. Link from the past already uncovered this world's secrets, you say? Well, he couldn't move along cliff faces and over canyons by turning himself into a moving painting, which means there is still plenty to find, and far different ways to find them. (He also couldn't play baseball in Link to the Past, but now I'm just piling on.)
And you'll want to go searching, too, as finding this game's collectible item is what allows you to upgrade your weapons and items. The Maimai are hermit crab-looking creatures who have been separated from their mother, and when you find 10 of them, their mother will grant you an upgrade to a rod, or your bow, or numerous other tools at your disposal. It isn't necessary to find them all, but this is a Zelda game: they kind of self-compel you to explore, you know? And exploring will get you the Maimai babies you seek, which will in turn let you upgrade your weapons and items in whatever order you prefer.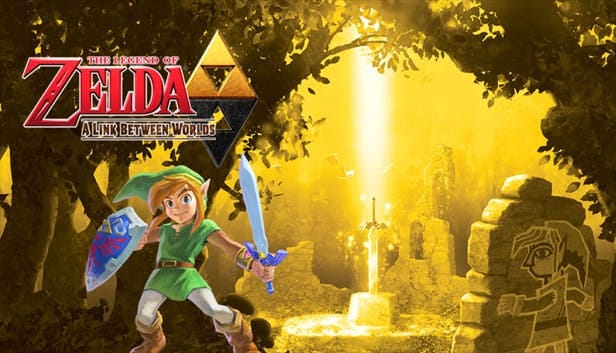 Image source: Humble Bundle
That is, you can upgrade whichever tools you actually own. And ownership of your gear isn't a given. You see, in Link Between Worlds, you aren't finding a big chest halfway through a dungeon that gives you a bow or a hookshot or whatever.* Instead, you rent your items from a mysterious dude in a rabbit suit, who has taken up residence in your home and turned it into a shop since you're off doing hero stuff. You rent the items you need for a specific dungeon, and then go conquer the thing. You don't have to give the item back unless you fall in battle, in which case you then need to rent it again. You can avoid the entire renting thing eventually, failure or not, by purchasing the items at a much higher rate, but you can't do that until later in the game.
*There are still big chests to be found in the dungeons, but they have non-required gear, like armor upgrades and minerals for strengthening your sword, within. So you can choose to play the dungeons in the order that gets you those key items first, if you so choose, or purposefully make things more difficult for yourself instead, if you're into that.
What this all means, though, is that you can tackle the game's dungeons in pretty much whatever order you please, so long as you've rented the appropriate gear beforehand. And each dungeon has a little sign outside that shows the item you absolutely need on hand if you're going to successfully clear it, so you won't be surprised halfway through when you find out that no, you can't actually progress further.
This open-world aspect is not only enjoyable in its own right, but it helps to further differentiate this from the game it's a sequel to. It feels more akin to the original Zelda, really, since you have so much more freedom — in where you go, in what order you discover things in — than you ever did in Link to the Past, even if that's the game this is a sequel to. And it's these open-world differences (as well as the inclusion of enclosed mini-dungeons with additional, non-required goodies in them) that ended up powering the next console Zelda, Breath of the Wild, too. A Link Between Worlds is, if you'll pardon the unavoidable pun, the missing link between Zelda's past and its now present. It took much of what Zelda had learned about itself in the decades between A Link to the Past and its own development, and then threw a bunch of new ideas on top, to boot, ideas that, in some cases, are now their own potential series staples.
And yet, it retains its own worthwhile identity and vitality despite being the sequel to a more famous and universally beloved game, and predecessor to another game that can claim the same. That's no small feat!
A Link Between Worlds isn't the top handheld Zelda by any means, but it is easily the superior among the decade-spanning contingent of originals that released on the DS family of systems. It brought something new and unique to the table just for itself, while also paying homage to the greatness before it and influencing the direction of the next console Zelda, too. Phantom Hourglass and Spirit Tracks are both fun and enjoyable in their own right, but neither has that kind of impact or necessity about them.
Spend some time with this version of Hyrule if you haven't yet done so: it's worth revisiting, no matter how many times you've completed the game that eventually spawned this sequel.
---
This newsletter is free for anyone to read, but if you'd like to support my ability to continue writing, you can become a Patreon supporter.