Discover more from Retro XP
Retro analysis, reviews, and thoughts on video games you've played before
Over 1,000 subscribers
Ranking the top 101 Nintendo games: No. 95, Mario Kart: Double Dash and No. 94, Excitebike: World Rally
Two very different but very Nintendo takes on racing.
I'm ranking the top-101 Nintendo developed/published games of all-time, and you can read about the thought process behind game eligibility and list construction here. You can keep up with the rankings so far through this link.
Well, let's just get this out of the way, so you know where I'm coming from: Mario Kart 64 was the worst popular racing game on the Nintendo 64. It raced far too slow considering how speedy its predecessor and the original title in the series, Super Mario Kart, felt. The game was running on a lag when you were hit by items. The courses felt huge and had scenery worth looking at, which was impressive and allowed by the N64's tech, but the focus on those backgrounds over powering the racing itself was a choice, and not a good one.
Everyone loves and remembers the four-player mode, and it's no wonder, given it, that Mario Kart 64 has plenty of nostalgic followers despite its inferiority to the original. Preferring it to Wave Race 64, or Excitebike 64, or Diddy Kong Racing, or F-Zero X — the latter of which was the opposite of Kart 64 in that it eschewed detailed environments to ensure that 30 (!) racers were going at once at speeds that felt impossibly fast at the time — confuses me to no end to this day, but I'm not bringing this up to talk down to Kart 64 fans. You've got your game and your love for it, and hey, that's fine. It's just not something I understood or understand.
Mario Kart: Double Dash was the moment, for me, where I fully embraced the franchise's move to a 3D space. The GameCube was a more powerful system than the N64, and, in 2003, Nintendo brought back the kind of speed in its racing that had me fall in love with the original SNES title years before. And this time, they added a meaningful new wrinkle to the mix that helps make Double Dash a worthwhile play even now in 2020, five full Mario Kart releases later: the ability to pick two characters you can switch between mid-race, each with an item only they can use.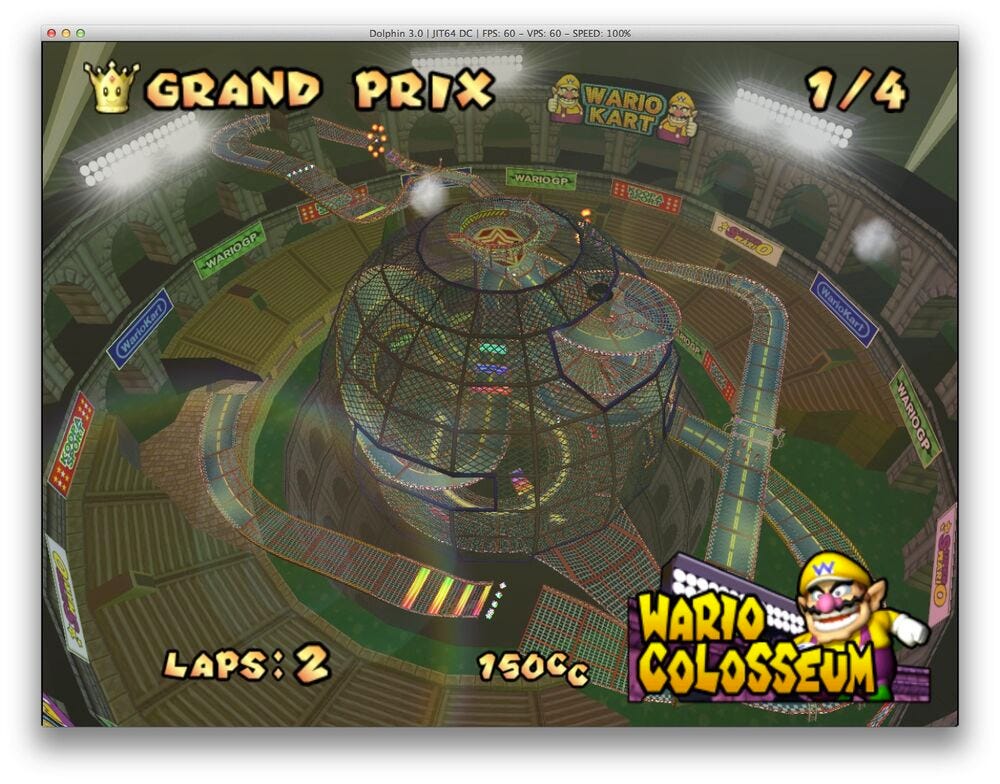 Image credit: Mario Kart Wiki

It's this two-racer concept, combined with highspeeds and short courses and laps, that earned Double Dash its placement on this list. In fact, it's separated enough from its peers that it's one of just two Karts on this list: it does a better job of being the kind of fast-paced racer the original was than the original or its more direct successor, the Game Boy Advance's Super Circuit, and whereas Mario Kart Wii, DS, and 7 are all sort of building on their predecessor and a specific kind of Kart that led us to the franchise's crowning achievement of Mario Kart 8, Double Dash remains kind of its own thing. Ergo, here it is.
Being able to pick two racers changed the game, as you could mix heavy and light racers, throw in a medium with one of either, whatever combination you felt like. This would result in things like light characters such as Koopa or Toad driving Wario's ride, but more importantly, allowed you to mix-and-match unique items, which you could access during the race but none of your opponents could. It's an idea that has not been revisited in Kart, and is somewhat borrowed but tweaked from the original, when the computer's racers each had their own item they would brandish against you again and again, but no access to the game's other items.
This allows you to build a strategy around shells, if that's your thing, by selecting both the green and red Koopa characters: their unique items, respectively, are triple green shells and triple red shells, which you cannot get without driving those characters. Or you could pick your preferred shell color of Koopa and pair them with Baby Mario or Baby Luigi, each of whom unleashes an enormous Chain Chomp onto the course, which both drags the driver around the course at high, hard-to-control speeds and slams into and through any opponents and obstacles in the way. Mario and Luigi get fireballs, Toad and Toadette get the speed-boosting Golden Mushroom, the Kongs get a gigantic banana that, when struck, explodes into multiple regular-sized bananas, Bowser has a huge shell, and Wario has a Bob-omb.
Many of these items became available to anyone in Karts following this one, but linking them to specific characters is this game's equivalent of picking specific custom parts for your vehicle (or bike vs. kart) in future iterations of the game. Every character on the select screen will appear in a race, which means every item and its attack is a possibility on each course. You have to decide whether you want to be slinging it or potentially on the receiving end of it, and balance that with which drivers and karts you're most comfortable using. It makes for a notable variety of ways to play and succeed at the game beyond just mastering the courses themselves.
And those courses? They hold up. Many of them, like DK Mountain, Daisy Cruiser, Sherbet Land, Yoshi Circuit, and more have been remade to fit into later releases, like adding places to do tricks for the Wii version of the game, or water for the 3DS one, zero-gravity areas for 8, but the original, untouched versions of the courses are a joy to ride on their own. If your GameCube (or Wii playing GameCube games) is hooked up to component cables and you can play in Progressive Mode's 480i, then they even still look fantastic all this time later despite the lack of high-definition. Double Dash managed to combine the speed of the original with the detailed environments and courses of 64, and nailing that here allowed Nintendo to move on into figuring out other new additions to the core concept, like more racers per course, bikes, flying, water, etc.
The GameCube also natively supports four players, so you can gather round the television for this just like you could for the N64 version without needing an add-on. And you'll have a more enjoyable go of it, too, with that trip back through time to this game that remains a classic in part because it's such a speedy weirdo compared to the rest of the franchise.
---
The only real issue with the original Excitebike, a 2D arcade racer released on the Famicon in Japan in 1984 and the NES internationally in 1985, is that it's much too short. You won't see me shaming the length of games in this space often, especially since I believe what's far more important is how purely enjoyable or replayable an experience is than how long it takes you to get from start to finish. That first version of Excitebike, though, is short on courses: there are five of them. You could create additional courses — a true wonder back in the fall of 1985 — but you couldn't save them in the NES version, not until future releases of it on the Game Boy Advance and Virtual Console changed that. The five courses could be played different ways, with one version more a solo time trial experience and the other game mode featuring computer opponents who would get in your way, but still: five tracks.
The core gameplay, though, is what made Excitebike rule both then and now. Like its Nintendo-version-of-sports cousin Punch-Out!!, Excitebike is built very much on developing your reflexes and memorization. The relative simplicity of its play and the NES controller — two buttons and a D-pad — doesn't detract from that experience one bit, and holds up as well today as it did when it first released in the mid-80s. The Wii iterations of both games kept that core gameplay intact without adding unnecessary complexity on top for a reason.
Now, "simplicity" in Excitebike is just in terms of being able to pick up and play the game, and play it decently, without too much effort. To master Excitebike, though, to rank at the top of each course? That took practice, and time, and learning the ins and outs of every course and what measures you could take with your bike to do so. It is a game that is easy to be frustrated by if you don't realize there is more to it than moving your bike along the track, avoiding whatever obstacles show up in your path along the way.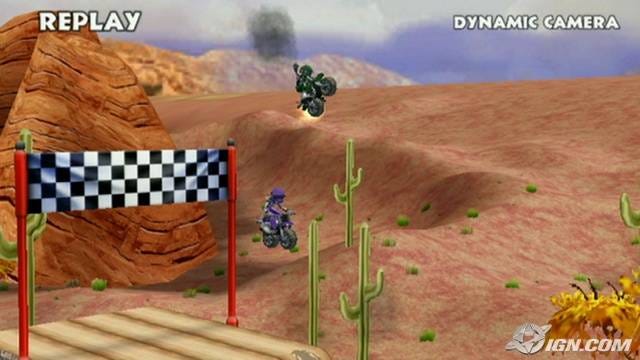 In 2009, Nintendo released Excitebike: World Rally (World Challenge outside of North America) on its downloadable game service, WiiWare. The game, which was more a sequel to the original Excitebike than anything else that had been developed in the franchise since, was created by Monster Games, the company that just so happened to have produced two of those other Excite series titles: Excite Truck and Excitebots: Trick Racing. World Rally fixed what was "wrong" with the original Excitebike by throwing in far more tracks for you to master, and introducing a tutorial mode that would teach you the tricks of the 2D motorbike arcade racing trade.
You no longer needed the manual or hours of experimenting to figure out that you could pop a wheelie right behind a racer you couldn't avoid otherwise, for instance, or to figure out just how to balance your bike in the air for the best possible landing after a jump. And on top of this quick education — and it is quick! — Monster Games gave you four different cups to race in, and you could only progress to the next one upon earning at least a rank of B in each race in the previous cup. Grades range from D to S, and some of those A and S times take true mastery of a particular track to acquire. Especially once you move out to that fourth cup, the Platinum one. Monster Games absolutely did not mess around with the Platinum courses on any of its three Excite-series titles. Just mentioning those tracks has me wanting to stop writing to go back to mess with them again, but I will soldier on.
Each cup has multiple courses to race, and is basically the size of the original Excitebike on their own. What's better than one Excitebike? Four Excitebikes of progressively increasing difficulty and complexity, obviously. And it should say something about the quality of the experience that, despite no longer being able to access the online competitive racing portion of the game 11 years after release, I still think this is worthy of mention as one of the top 101 Nintendo experiences you can have right now.
Assuming you can find someone who has a Wii with a copy of it downloaded, since that console's store no longer allows new purchases, only downloads of previously purchased titles. Hmm, why is it I have problems with the move to a digital-only video game landscape, again? Re-release this game on the Switch in HD with the multiplayer restored for the 35th anniversary of the franchise in America, you cowards.
Anyway, World Rally might seem simple enough on its surface, but it becomes complex in a hurry. Eventually, you need to balance your turbo boost — the overuse of which can stall your bike — with the many jumps where turbo is required, with the bikers you're trying to avoid crashing into, with the obstacles to avoid in your path, with the landings you need to nail in order to avoid slowing down for even a fraction of a second if you want to get that S rank. It is no easy feat, to get those A and S ranks, but the courses remain short enough that it's easy to load them up again and again, memorizing more and more of each track and what it requires of you each time through, until you're finally able to put it all together and avoid every literal and figurative trap in your path. Your brain will reward you with the release of many pleasant chemicals when you manage that, I promise you that much.
There is no better pure Excitebike experience than the one World Rally gives you. Maybe 2D arcade racing isn't your thing, as it hasn't been the thing for many a reviewer over the years, all of whom I am extremely ignoring with this ranking. If you're even a little interested in the genre, though, or enjoyed the original Excitebike at all, then World Rally would do the trick for you, too.
This newsletter is free for anyone to read, but if you'd like to support my ability to continue writing, you can become a Patreon supporter.