Ranking the top 101 Nintendo games: No. 81, Super Mario 3D Land
The 3DS got an original Mario idea that took full advantage of the handheld's glasses-free 3D tech, but it's greatness is obvious even without that.
I'm ranking the top-101 Nintendo developed/published games of all-time, and you can read about the thought process behind game eligibility and list construction here. You can keep up with the rankings so far through this link.
There are two different ways to discuss, "Mario, but in 3D!" There was the original way of talking about it, when the transition from "side-scrolling, two-dimensional platformer" to "Mario is now three-dimensional and running around in a three-dimensional space" occurred with the release of Super Mario 64 in 1996. And then there was the 2011 discussion, with the Nintendo 3DS' original Mario title, Super Mario 3D Land. Where Mario was three-dimensional, in a three-dimensional space, but also in 3D. Stereoscopically speaking.
There is just the one "in 3D!" on the stereoscopic side to speak of in the Mario universe. Sure, New Super Mario Bros. 2 was also a 3DS game, and the 3D properties were enabled, but that was just a standard New Super Mario Bros. game in its design. Super Mario 3D Land, though, was designed with the glasses-free 3D technology of the 3DS in mind. This game has a lot more vertical platforming than other 3D Mario games, besides maybe Sunshine, and the 3D view lends itself to setting up and completing jumps, finding hidden items, or discovering new paths for Mario to take.
Unless the glasses-free 3D gives you a headache, you are probably going to want to have it on. It does help you find hidden nooks and crannies, and better plot some of your jumps out, and helps you gauge your distance and position during some of the more vertically oriented stages. Plus, the game just looks better with the 3D feature on: it not only pops more, as in out of your screen as 3D does, but it pops more graphically, in terms of the sharpness of the images. The additional depth created by the 3D effect, like it did with many of Nintendo's other 3D outings on the system like Star Fox 64 3D and both of the Legend of Zelda remakes of Nintendo 64 games, really helps this game become more of a looker than it already was. It's of course difficult to show you this without actually having the system in hand, so you'll just have to trust me on this one.
What helps keep the game relevant nine years later, when the 3D wave has died down — Nintendo eventually released a version of the 3DS, the 2DS, that didn't include the autostereoscopic tech because of this shift away from caring about 3D in games, and the "sequel" to 3D Land kept the 3D in the title but was on a system without that kind of 3D tech — is that it's still a lot of fun to play and explore even if you turn the 3D function all the way down. It's still, without it, a 3D Mario like 64, or Sunshine, or Galaxy, and so on, but it's also something different that isn't really like them at all. It's a blend of what makes Mario's side-scrolling adventures work, and what makes his 3D adventures work, and while it's not at the top of the short list of games that manage this feat, it's still one of Mario's finest outings out there, one that eclipses most of his pure two-dimensional adventures and comes close to his lesser three-dimensional ones.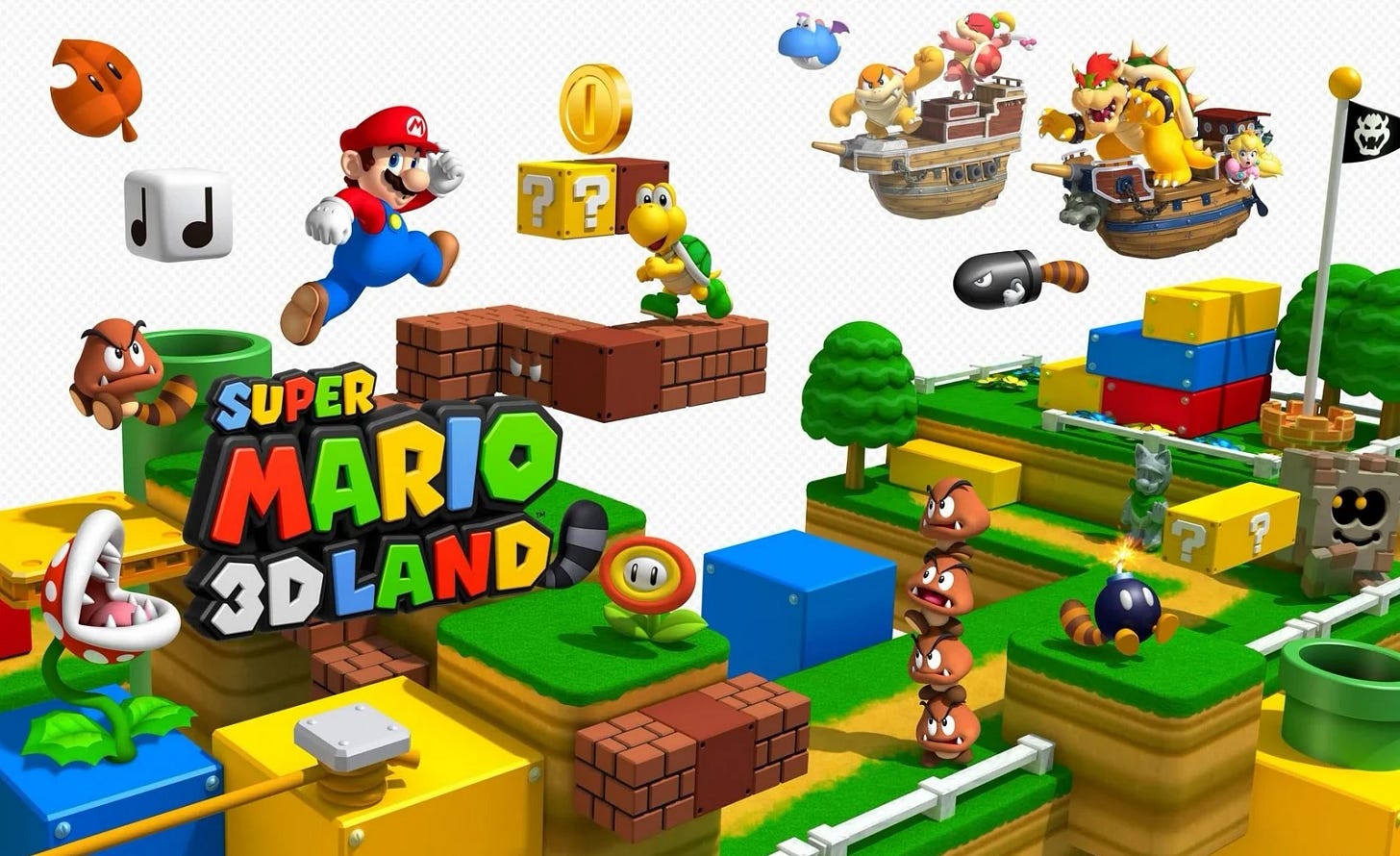 Image via Nintendo Life
It's this newness that makes it shine in a way that the New Super Mario Bros. games don't. Those, as was written about in this space before, are trying to capture a previously experienced moment in time, with some modern flourishes added in. They want you to remember how much fun side-scrolling Mario was back in the day, without necessarily innovating in the space. Super Mario 3D Land, somewhat improbably given that it's a three-dimensional Mario in a three-dimensional space with the option of being viewed in 3D, is a more fitting tribute to the innovation and exploration of the two-dimensional space that classic Mario games managed than the games that are actually designed to pay tribute to them.
The game isn't as wide open as 64 or Sunshine or Odyssey, where you can do quite a bit of exploring in large stages to unearth secrets, where repeat visits are a necessity to wring everything from a given stage. It's much more in line with the old side-scrolling games, which have a clear beginning and end, with things to find and enemies to defeat in between those points A and B. Nintendo saw this game as an opportunity to bridge the gap between Super Mario World and Super Mario 64, and they succeeded in this goal.
You play a game in that style that just happens to be drawn in 3D, is all, but because it is three-dimensional, you have some of the flourishes that previously only existed in the games like 64. You can long jump! You can back flip! A traversable 3D space needs the tools of 3D Mario, after all, even if the game, in essence, has more of the spirit of its 2D cousins — you shrink when hit, for instance, stages are more linear than those you'd find in Mario 64 or what have you, and end-of-level flagpoles make their first appearance in a three-dimensional Mario. It makes for a blending of the two worlds that, otherwise, is only seen in those moments where the 3D Marios give a brief nod to their 2D predecessors in or within a particular stage's design.
Unlike the side-scrollers 3D Land evolved from, there are hidden objects to find that you will want for reasons other than "they were there to be collected." There are three star coins in each level, and collecting them allows Mario to continue to progress forward in the game. If you just fly through the levels as quickly as possible, you won't find what you need to unlock more of them: you'll eventually get to a checkpoint of some kind that requires X number of star coins to bypass. There are moments to be quick, for sure, but there are also lots of moments where you're going to want to slow down and search, to take a little time to explore, and find those coins. The searching isn't quite as rewarding as it is in this game's sequel, 3D World, but it still beats what the New Super Mario Bros. games provide, both in terms of a feeling of accomplishment from the finding, and in why you'd search in the first place.
You will also want to find more than the bare minimum number of star coins to progress, too, because the real joy of Super Mario 3D Land comes after you've finished the game. That's because what you initially think is the end is not: the game is actually twice as long as it leads you to believe. There are initially eight worlds, but with just five levels per world, so it feels like a relatively short Mario experience. If you collect enough of the star coins, though, you unlock the Special Worlds, of which there are again eight with five levels per. And you can begin to play as Luigi, too, who plays a bit differently than Mario, as he tends to do.
These special worlds build on the difficulty and complexity of the later levels of Super Mario 3D Land, while also introducing some challenges, such as levels of standard length that you begin with just 30 seconds to complete. You have to find additional time by collecting clocks scattered throughout the stage, while also finding the three hidden star coins within, before time expires. Some stages are a bit similar to stages you've played already, but have more enemies, more difficult jumps or routes to take: they're kind of a re-imagining to satisfy anyone who felt the initial run was too easy.
The game is still, on the whole, a relatively easy affair. But that's not necessarily a negative. Even with that ease, it's lots of fun to play for both the initial stages and the special, more challenge-oriented ones. It succeeded in becoming a bridge between 2D Mario and 3D Mario, and conceptually worked so well that it eventually spawned a vastly superior game that stands above a number of the pure 3D Mario titles as well. The quality of 3D World is, to a degree, why 3D Land finds itself back on this part of the list instead of with a higher ranking: the existence of a similar but obviously superior version of the game will do that. And yet, 3D Land also still stands on its own among the Mario franchise as a whole, thanks to its unique use of stereoscopic 3D and the kind of game design that came out of the existence of that feature, design you don't necessarily find replicated in 3D World.
If you don't have a 3DS and can't get your hands on Super Mario 3D Land, well, that's a shame. But if you do have a 3DS (or 2DS), then you should grab this one while you wait for the re-release of Super Mario 3D World on Switch. It'll introduce you to how this bridge between dimensions works, and give you something to enjoy while we await the far more expansive version of its sequel.
---
This newsletter is free for anyone to read, but if you'd like to support my ability to continue writing, you can become a Patreon supporter.